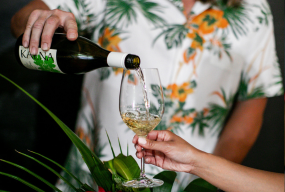 Kaena Wine Company
Celebrating our 20th Anniversary, Kaena is proud to open our second location at 800 East Highway 246 between Solvang and Buellton. With a large barn setting, outdoor patio and beautiful mature trees this oasis is the perfect place to wine down and taste 90 plus point wines, with more than 18 varietals to choose from including the Kaena Noir bordeaux line up.
Kaena was launched in 2001 to showcase Mikael's deep passion for Grenache. Kaena is a boutique winery that sources from Tierra Alta Vineyard, La Presa Vineyard, and Larner Vineyard in the Ballard Canyon AVA , primarily. Mikael who is part Hawaiian and raised on the Oahu shores, uses a shortened version of his given name for the brand – Kaena – which means "potential for greatness".
That "greatness" is evident in the wines – in 2006 Wine Spectator named Mikael one of the top 10 new Rhone producers. Known affectionately by his peers and fans as The Grenache King – Kaena produces 2000 cases of Rhone & other varietals with an emphasis on Grenache.
Mikael credits his success, growth and nickname to his passion for making truly handcrafted wines. He also credits his wife, Sally, for her design and management of the Kaena Tasting Rooms located in Los Olivos and Solvang, California. Our town location features the original "Grenache King" experience.