October 11, 2017 | Vino Vaquera
Welcome To Fermentation 101
Aloha Kaena Friends & Followers!
Your Aloha Crew is pleased to share that we are in the thick of our 2017 Harvest season and are extremely pleased with the insanely abundant vineyard picks making their debuts. Currently, we have quite a few Kaena fan favorites begining the first stages of their individual fermentations. Therefore, we felt that it is the perfect time to talk about the fermentation process in general. Many might be farmiliar with the term 'fermentation' in general but might not have a thorough understanding of how this vino magic actually takes place.
WELCOME TO FERMENTATION 101.... CLASS IS NOW IN SESSION!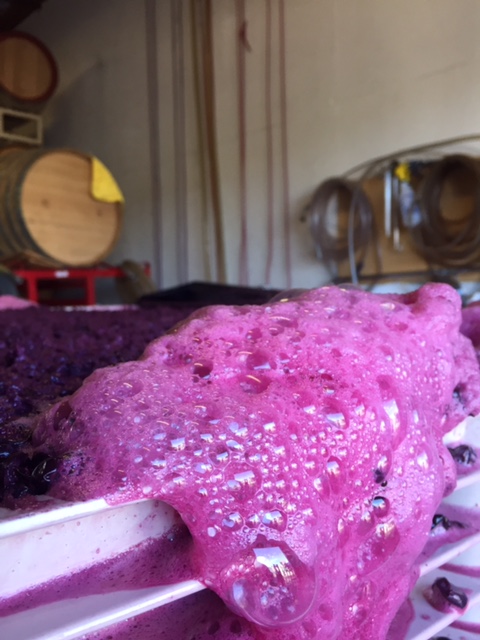 FER.MEN.TA.TION
The word fermemtation comes from the Latin word fermentare, meaning " to leaven." Fermentation is a chemical breaking down of a substance (as sugar) that is controlled by an enzyme which overall is converted to ethyl alcohol. This is a process in which a substeance breaks down into a simpler substance. In the process of creating wine, microorganisms like natural bacteria and yeasts play a large role typically involving effervescence and the giving off of heat.
As previously mentioned, yeast is essential during the fermentation process. Once the initial chemistry of the fruit is determined (sugar,acid,taste ect.) we can then decide what type of yeast we want to use. It is important to clarify that all yeast, even cultured yeast, is infact natural. The differnce comes from weather the fermentaion is from wild or inoclated yeast. With this being said, there are specific yeast strains used for each wine. The different yeast strains are specialized to work in different enviornments. Examples of these would be high/ low temperature, high/ low acid, and high/ low sugar. Yes, the yeasts themselves can produce differnt flavors that are involved in the outcome of a wine. Choosing the right yeast strain is up to each individual winemaker's prefrence as it is extremly crutual to the winemaking/ fermentation action.
KAENA LOVES GOING NATIVE FOR YOU- 100% OF KAENA RED WINES ARE FERMENTED WITH NATIVE YEASTS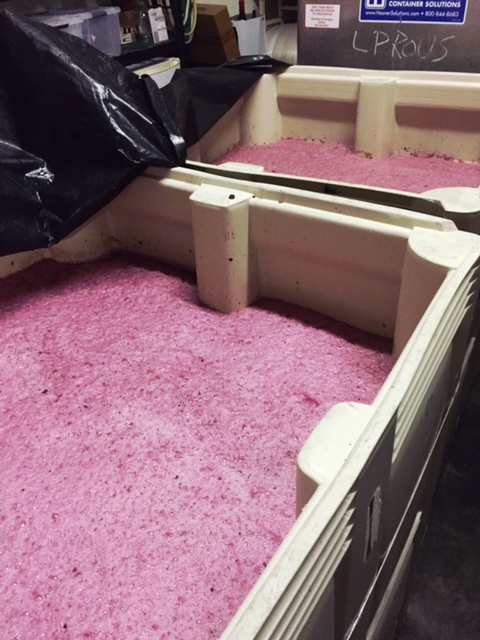 Look at that perfect ferment! Clone 362 Grenache from Tierra Alta Vineyard (Ballard Canyon) photographed after a fresh round of punch downs by Alex Watson (Harvest Intern/ Sommelier)
At this point of an active ferment, we let the yeast do it's thing. Next, the yeast will consume the sugar in the juice and convert it to alcohol ...as well as heat and carbon dioxide. During this time the Grenache King and Aloha Crew will continue multiple 'punch downs' daily while each individual ferment is cold stabalized in our temperature controlled facility. Our winemaker will also deside when to stop each fermenattion. He can either stop the fermentation at the desired sugar/ alcohol content, or let the ferment go until all of the sugar is gone (dry wine). Kaena's winemaker (Mikael Sigouin) and harvest team will monitor this process carefully by checking the fermentation speed throughout to ensure that the yeast(s) are infact healthy and active.
Typically after fermentation is complete, the dead yeast cells 'lees' will settle to the bottom of the tank/ bin and then the wine is pumped into a clean tank. Each wine will then go through various stabilization and filtration steps until it is ready for barrel aging or botteling. Don't worry...we will geek out shortly about oak & againg prefrences!
OK, CLASS IS DISMISSED... AND THAT CONCLUDES OUR CRASH COURSE IN FERMENTATION 101!
Until next time Kaena supporters....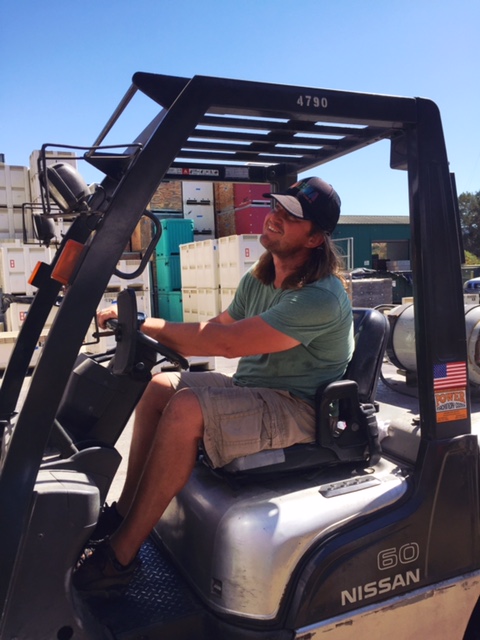 Mikael Sigouin (Kaena winemaker/ Grenache King) working crush from his royal throne
Mahalo,
Kaena Wine Company