August 30, 2017 |
Vino Vaquera
ALOHA KAENA WINE CO. FRIENDS & FOLLOWERS!
Welcome to the first blog post of 2017. Yes folks, 2017 Harvest is here and we are thrilled to have you following along during this crazy hectic season. We are proud to announce that Kaena Wine Company survived it's first full action packed week thanks to a little help from a few recent additions.
Now, let us take a moment to introduce our two incredibly talented new aloha crew members! First up is Jose Garica who will be taking on the role of Kaena's Cellar Master. Jose is bringing experience and a much appreciated work ethic to the team this year. Our second new face is Alex Watson, a passionate sommalier from Hawaii who is excited to dive in and get his hands dirty. You better believe Alex also knows a thing or two about living life with the aloha spirit!
WELCOME TO THE KAENA OHANA.... KAENA = PROUD!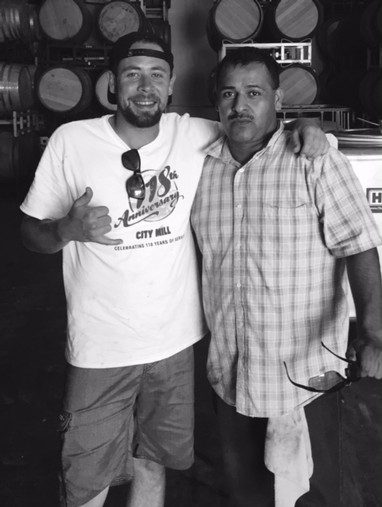 Pictured: Alex Watson (left) & Jose Garcia (right)
Ok, lets get back to a few other important harvest details. Due to a pleasant amount of rainfall this year, the yields are up and showing great promise. However, currently we are experiencing an excessive heat wave in the Santa Ynez Valley area which brings back memories of 2016. During 2016 Harvest, the Kaena team processed most of our fruit in a 30 day span.... talk about a whirlwind of intensity.
We are also relieved to announce that we have seen no sign of crop damage due to heavy smoke or ash. Both Santa Ynez Valley and Santa Barbara County experienced horrific wildfires this Summer. Therefore, it is a great blessing to have had minimal aftermath in regards the vineyards.
WIth temperatures hovering within the tripple digits for the next couple of weeks, Mikael and crew are preparing the 2017 fruit to come in fast and furious.
A few of the first 2017 varietals to make their debut this week was the beuatiful Albariño and Riesling from La Presa Vineyard.
Oh La Presa... how we love you so...especially your cool foggy mornings!
The 2017 Viognier from Tierra Alta Vineyard also came in hot and heavy this week... in the best way possible of course.
So lucious and bountiful... as Tierra Alta never dares to disappoint.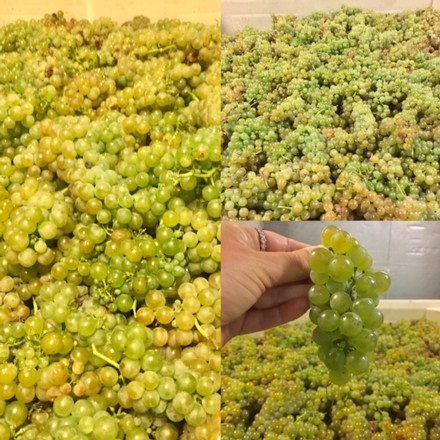 Pictured: 2017 Viognier from Tierra Alta Vineyard ( Ballard Canyon AVA )
Just in case you are reading this thinking there might have been time to spare....think again! In between fruit deliveries, the aloha crew was hard at work bottling a few of the new latest and greatest.
Did someone say that Mikael makes Chardonnay?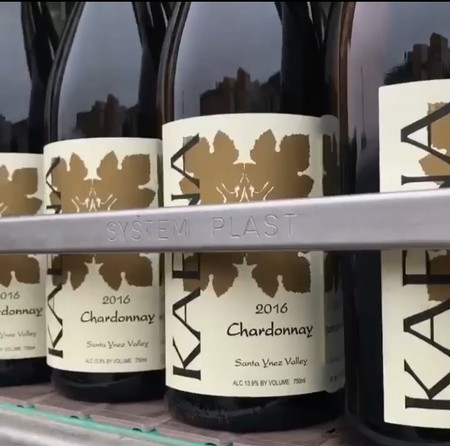 The 2016 Chardonnay hails from Brick Barn Vineyard (Buellton).
We agree that gold is definitly HER color! This is just one of many stunning new releases that we have in store for our wonderful friends and club members.
Until next week thirsty people...stay cool with one of your Kaena favorites and mahalo for your support!
Aloha,
Kaena Wine Company